Favorite Teacher
Favorite Teacher is an HTML adventure porn game developed by Slutty Star. The game has real porn images and video.

The slightly perverted male protagonist finds himself newly hired as a biology teacher at a female only faculty. Seduce and corrupt fellow teachers, students and even the school principal!

This mobile version of Favorite Teacher has been converted by us, Mopoga.com. If you come across any issues please let us know in the comments section below.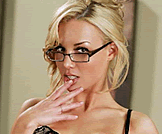 PLAY Favorite Teacher NOW