Galactic Outlaws
Galactic Outlaws is a sci-fi themed HTML porn game, developed by GUS_tabin, who also created the game Ebony Paradise.

In this sandbox style game you play as a young man facing a tough journey ahead. Travel through the galaxy with two female companions (your stepmom and stepsister) while attempting to flee from your home planet, which is ruled by the Human Federation.

Updated to version 0.3 on March 14th 2023.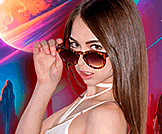 PLAY Galactic Outlaws NOW