Academy of Fetishes
Academy of Fetishes is an interactive text-based sex game. Compared to other games on this site Academy of Fetishes has a lot less images and animation. The captivating storyline is tailored to your own sexual preferences as you can select which fetishes to include.


Story: You are the principal of Saint Mary's, a financially ruined all-female college. Fortunately, an anonymous benefactor offers to keep the school afloat so long as the students and teachers perform lewd acts..

Select the fetishes of your liking and see how the story unfolds..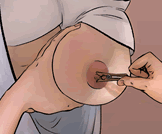 PLAY Academy of Fetishes NOW
SHOW ALL COMMENTS