Shadows over Solomon Falls
Shadows Over Solomon Falls is an erotic game in the horror/thriller genre with 3D rendered graphics, developed by WendyTheRed.

Inspired heavily by the TV series Twin Peaks, the female protagonist travels to the small town of Solomon Falls to solve the mysterious disappearance of a young girl. There are different story paths to follow ranging from different jobs to romances with different characters. It's also possible to start the game as a transgender MC.

Updated to version 0.33a on April 14th 2023.
More erotic 3D art from the developer can be found on their Deviant Art page.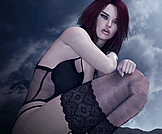 PLAY Shadows over Solomon Falls NOW