The Repurposing Center
The Repurposing Center is a text based interactive story, developed by Jpmaggers and is intended for an 18+ audience only.

The story takes place in a dystopian setting, a government controlled society where certain citizens without a common purpose are living in fear of being captured and taken to a facility, so they can be repurposed into something more valuable to society.
The game is a sandbox life simulator contained within "The Repurposing Center", a place where the main character finds themselves trapped at the beginning of the story. It's your task from here to reach a happy ending as the system is forcing you to partake in re-socialization programs and offers you to undergo voluntary and involuntary physical transformation - all with the purpose of eventually being able to leave the facility by placing yourself up for auction.

Updated to version: 0.5.14a on August 31st 2023.

More information about the game can be found on it's wiki page.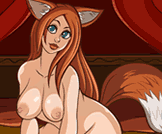 PLAY The Repurposing Center NOW
SHOW ALL COMMENTS