Free Cities
Free Cities is an erotic slave management sim, largely text based with few visuals.
In this open world game set in a nearby furture you take the role of a wealthy slaveholder. Start out with a small capital and access to a slave market, manage your self-founded city and try to make it big in a world shaped by recent environmental and societal collapses.

We're hosting the Preg Mod version, which is currently still in development. (updated to version 4.0.0-alpha.27 on September 7th 2023)
Alternatively you can play the original game (abandoned in 2017) using the second button.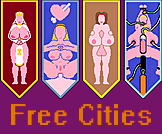 SHOW ALL COMMENTS