Degrees of Lewdity
Degrees of Lewdity is a very lewd and naughty text based adventure game with few pixelized visuals. Play as a female, male or hermaphrodite student and get about your ordinary tasks in life, school, work friends, etc. What happens next all depends on your actions in the game.
Settings like gender selection and being able to toggle fetishes allow you to enhance your experience, so get ready for many hours of gameplay.


Updated to version v0.3.1.2 (July 15th 2021)
To find out what's new in this update check the developer's blog.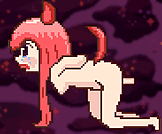 PLAY Degrees of Lewdity NOW