Degrees of Lewdity
Degrees of Lewdity is a naughty text based RPG game for adults with pixel art visuals, developed by Vrelnir.
Play as a female, male or hermaphrodite student and get about your ordinary tasks in life, school, work friends, etc. What happens next all depends on your actions in the game.
You can customize the game by choosing your gender and by enabling fetishes.
Get ready for a lewd adventure and many hours of gameplay.

Updated to version v0.4.2.4 on October 3rd 2023.
Quote from the dev: "This update adds an island out at sea, makes Alex a full pregnancy candidate, and lets you upgrade Alex's farm with a nursery. It also overhauls the crime system, and adds a bunch of new hairstyles and clothes.".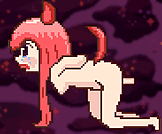 PLAY Degrees of Lewdity NOW