Rising Debt
Rising Debt is a short HTML porn game with various endings and real pics/video, developed by HoratioTheGreat.

You play as either a female or trans female protagonist. Porn scenes are mostly F/F or Trans/F, depending on the path you choose at the beginning of the game.
Subject yourself to weird experiments, body transformation and kinky sex. Anything to pay off your ever-rising debt..

Current version: v1.5.1, which is the final and complete version of the game.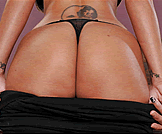 SHOW ALL COMMENTS