Corrupt Girlfriend
Corrupt Girlfriend is a fappable porn game with real porn pics and video, developed by Kinkzgames.

You find yourself in the lucky position of having a girlfriend with a high libido. However, as time goes by your inexhaustible partner turns into a bit of a sex monster, wanting more and more, while you watch on the sidelines...
Compared to other games there's not a lot of substance to the story. It's pretty straightforward, non-grindy and bringing you straight to the porn videos, which are mainly NTR.

Current version: v1.0, which is the complete final version of the game.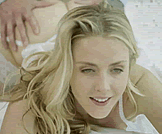 PLAY Corrupt Girlfriend NOW
SHOW ALL COMMENTS