Dirty Cop
Dirty Cop is an adult adventure game with real porn pics and video, developed by Budger.

Take the role of Dick Johnson, a rookie police officer recruited into the into a corrupted police department.. Do your duty and don't forget to keep an eye out for the ladies..

Updated to version 0.02, witch is the final version of the game.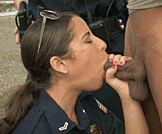 SHOW ALL COMMENTS