Aphrodisia
Aphrodisia is an HTML based interactive adult game with a fun and unpredictable storyline, written by Dr. Wolfman.

The plot starts out in a familiar way, a mid-twenties male protagonist is living a fruitless life when suddenly a magical creature provides him with special powers. From there things become interesting as he's finally able to get laid with whoever he wants..

Updated to version Ch3 V0.5.0 on March 3rd 2023.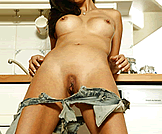 SHOW ALL COMMENTS