Double Homework Episode 4
Double Homework Chapter 4 is an erotic adventure game with sexy cutscenes. The story is about a guy living together with two hot roommates named Johanna and Tamara.
In this latest chapter you have made a deal with Deniss about delivering sexy photos of the girls. good luck!
We will add further episides here at Mopoga.com.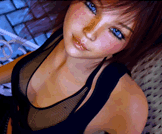 PLAY Double Homework Episode 4 NOW
SHOW ALL COMMENTS