Double Homework Episode 1
A sexy role playing adventure game about a guy going through a tough time in life, his only luck appears to be that he's living together with two sexy girls! Try to change your run of luck and work on your relationship with the girls.
In this first episode nothing too exciting will happen yet, but the coming episodes will bring more juicy action. We will post them for you here at Mopoga.com.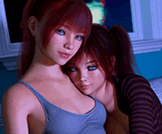 PLAY Double Homework Episode 1 NOW
SHOW ALL COMMENTS