Double Homework Episode 2
Double Homework Chapter 2 is an erotic adventure game with sexy cutscenes. The story is about a guy living together with two hot roommates named Johanna and Tamara.
In this new chapter new characters are introduced and it's quite long.
We will add further episodes here at Mopoga.com.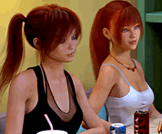 PLAY Double Homework Episode 2 NOW
SHOW ALL COMMENTS