A Part in a Play
A Part in a Play is a text based game for adults with real porn pics, written by "Manofhisword".

You take the role of a high school student in desperate need of a few more credits to be granted graduation. You're willing to do anything to accomplish your goal and are likely to lose your dignity in the process..
The game focuses heavily on transformation / sissification, there's multiple paths with ten different endings, most of which cover transformation of the protagonist from male to female.

This is the final completed version of the game.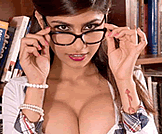 PLAY A Part in a Play NOW
SHOW ALL COMMENTS