Student X-Change Program
Student X-Change Program is an interactive story based porn game with real pics and videos.
You are starting a new life at university and are offered a drug that transforms your body and DNA to that of a beautiful woman. Pick your characteristics and see how the story goes on.

Updated to version 1.15.00 on June 27th 2022, which extends the story into your sophmore year and adds additional endings.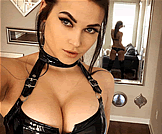 PLAY Student X-Change Program NOW