Hentai University
In Hentai University you take the role of a newly appointed school counselor. The main characer can be either androgynous futanari or male, the choice is yours.
The university town is a hotspot of beautiful hentai women! Make the best use of your amateur hypnotizing skills and enjoy the hot hentai porn scenes.
Reverted to version 12 (August 2020) because version 13 has a major bug. If you played on August 14 - 16th you may need to clear your cache if only a menu is showing.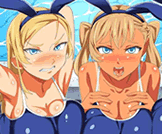 PLAY Hentai University NOW