Inner Bimbo
Inner Bimbo is a bimbofication porn game with real pics and gifs, developed by pCaine. (you can support the dev by following the link)

Step into the shoes of a failing businessman who's luck is about to change when he discovers a curious bimbofication device which transforms ordinary women into bimbos.
While having fun creating and expanding your harem of bimbos you have to keep an eye on monthly finances and keeping your business running smoothly.

Current version: v0.6. The game is currenlty not actively being developed, but has a huge amount of content to be explored as it is.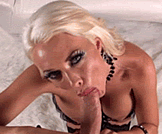 SHOW ALL COMMENTS