Secrets Unveiled
An erotic visual novel game with real porn pics and video, developed by Starlightgames.

The focus in Secrets Unveiled is mainly on the story accompanied by plenty of porn scenes. You play as a young man returning to your home town after eight years away. Find out what transpired during your time away and why your were sent away to a dorm without notice eight years ago.. Dark secrets are lurking around every corner and various fetishes will be crossing your path.

Currently updated to version 0.1.1. This game is in it's early stages but includes already over 1000 porn videos and pics.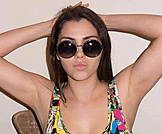 PLAY Secrets Unveiled NOW