To the Fullest
To the Fullest is a porn adventure game with real pics and video, developed by Royarus.

In this sandbox life sim you take the role of a mid-30s husband and father of a one-year-old. Your wife Sarah has a job and having the baby around means you hardly spend time together anymore. Things take a change when you decide to accommodate a nanny in your home, quite cute one in fact... Will you save your relationship or maybe pursue the nanny? You have the freedom of action.

Updated to version 0.25 on September 16th 2023. This is the "Rebuild" version of the game.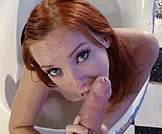 SHOW ALL COMMENTS