Starwatch Academy
Starwatch Academy is a sci-fi themed HTML porn game with 2DCG graphics, developed by Jaded Dreams.

Set in a distant future the age of space colonization and initial contact with other races has begun. You start the game as either a male or female recruit at the Starwatch Academy. You are in control of your life and destiny at the academy, various paths including optional gender transformation are available.

Updated to version v0.3.4b on November 15th 2023.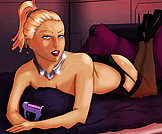 PLAY Starwatch Academy NOW
SHOW ALL COMMENTS