Wasteland Lewdness
Wasteland Lewdness is a text based RPG for adults in a post-apocalyptic setting, written by Icy ViridianIcy.
The male protagonist finds himself in a world heavily affected by a nuclear war where anything can happen to you when venturing outside of your safe settlement..
The game starts by letting you choose your gender biases, dominance, submissiveness, and pretty much whatever you want to do. There are a full range of NPCs including women, men, and hermaphrodites, and even some mutants.

Updated to version 0.44.2 on November 11th 2023.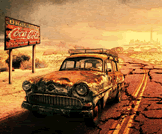 PLAY Wasteland Lewdness NOW
SHOW ALL COMMENTS