My Employee's Family
A short 3D porn adventure game with 3D rendered scenes and animation. Play as a business owner who abuses his power to get involved with his employees and their private life. The plot is thin but fascinating, lots of inter family cheating and corruption.
The current version of the game can be finished in about 20 minutes. We will update here when the developer brings new content.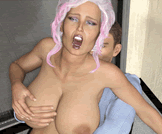 PLAY My Employee's Family NOW