Perverted Education
A text based RPG adventure, similar in style to to Degrees of Lewdity. In Perverted Education the main character is a young male who starts out as a naive and horny student and is slowly corrupted and feminised by his surroundings. The game is on the kinky side and you will be coerced into doing increasingly perverse things in order to pay off an increasing debt owed to a teacher and your guardian.
If you're not turned off by sissification and male submission of the main character then this game may keep you entertained for many hours. There's a lot of content, although mostly text there's also occasional real porn pics and gifs displayed.
The game has been developed for over four years and has a large fanbase, more information can be found on the developer's Patreon page.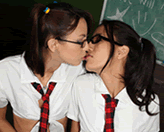 PLAY Perverted Education NOW