Latina Slutwife Trainer
Latina Slutwife Trainer is an HTML porn game with real pics and GIFs, developed by RandomGamerMofo, a self proclaimed fan of cheating, NTR and latinas.

Take charge of a marriage between a guy and his beautiful latina wife who are looking to open up their marriage/sex life. There are several paths to follow and tons of choices to make which lead to different outcomes and hot sex scenes.
Updated to version 0.3 on September 22nd 2023.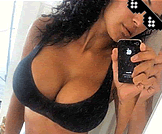 PLAY Latina Slutwife Trainer NOW